Raymond Nordwall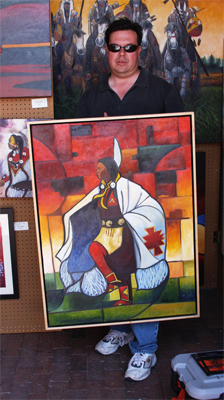 The spirit and culture of the Native American lives in the work of Santa Fe artist Raymond Nordwall. Of Pawnee and Ojibwe heritage, he is known for his contemporary and bold depictions of traditional cultures. Raymond is recognized for his stunning monotype creations, blending the modern art of printing with more traditional oil pastels and pencil. He has won numerous awards throughout his career, including the prestigious honor of creating the 2000 poster image for the Santa Fe Indian Market.
Raymond Nordwall is the son of Al Nordwall an Oklahoma ceremonial pipe maker and great-grandson of Roam Chief, a renowned turn-of-the-century Pawnee Religious leader. Raymond grew up in Oklahoma where he became linked to the culture. He was raised in a traditional way and went to Pawnee ceremonies and dances and began dancing by the time he was five.
Raymond learned to paint from Johnny Tiger Jr. and his brother Jerome Tiger. Jerome was the better known painter who was tragically killed in an accident in 1967. While in Junior High School, Raymond and friends participated in art shows in Texas and Oklahoma. At a young age he was selling his paintings at museum shows and was determined that he could make a living as an artist.
While attending Oklahoma State University in Stillwater, his university professors openly disapproved of his traditional style and encouraged him to transfer to Bacone College in Muskogee where Indian styles were more readily accepted. Raymond is grateful to have studied under the direction of Dick West, an instructor at Bacone, who influenced an entire generation of Indian Art Students. Dick stressed research by students for historical accuracy in art. Raymond spent two years ('85-'86) there and graduated with a degree in two dimensional art. He also attended the Institute of American Indian Art in Santa Fe earning an Associate Degree in fine Arts, with honors in 1987.
Raymond was accepted to the Chicago Art Institute but elected to continue working for and studying under the tutelage of Frank Howell. Classmates Diego Romero and Tony Abeyta went on to continue their art education. Raymond has independently studied Rembrandt, Van Gogh, Monet and Marc museum paintings in the U.S. and Europe. He has learned that Japanese wood blocks influenced French impressionists and post impressionists. These painters have influenced his favorite Native painters and all have influenced his subject matter, composition, brush strokes, and style.
Painting helps Raymond to deal with life. Native subject matter brings Raymond close to his mother Eva Nordwall (nee Fields). He incorporates Hummingbirds and eagles in memory of his son. He paints warriors not in the sense of tension but in the sense of watchful spirits who serve as protectors and family providers. If not painting or working every day he feels as though he is wasting his purpose for being on this earth.