Jody Naranjo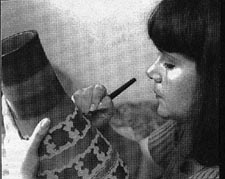 Jody Naranjo is one of the most talented and innovative of the new generation Santa Clara potters. She is successful in blending traditional and contemporary art forms by carving contemporary images onto tradionally made pottery. Jody etches whimsical designs with an Exacto knife into the clay surface of her pots. Many of her pots tell stories which come from personal experiences. For example, when growing up Jody's grandmother would tell to not look at the serpent when she went down to the river to play. In remembrance of this Jody carved a pot called Don't Look at the Serpent, on which all the people had their eyes covered so as not to see the serpent. While Jody's pots include non-traditional images, she makes her pots exactly the same way her ancestors did for generations. Jody mines and mixes her own clay, does her own firing and still uses her great grandmothers polishing stone.
Jody grew up in a large family of celebrated potters and knew early on she wanted to work with clay. Growing up with over 20 family members who made pottery, she knew the entire process by the time she was 6 years old. This early knowledge and the initimidation of being surrounded by the talented family members, resulted in Jody pushing herself to be as good as she could be. Her efforts were rewarded in a fellowship she received at the age of 19 from the Southwest Association of Indian Arts and in 1992 she won the first place award for contemporary scraffito at Indian Market.
Jody continues to produce new designs and shapes. Most recently she has participated with other highly regarded potters in a workshop where they share ideas, techniques and material with each other. Forever striving to be on the forefront of Native American art, Jody Naranjo continues to succeed at producing pottery which blends the traditional and contemporary.
No products were found matching your selection.