Dorothy Torivio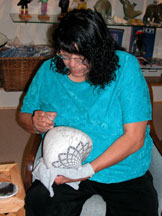 Dorothy Torivio, Acoma Pueblo, active ca. 1974-2011
During her visit to Tribal Expressions in April 2002, Dorothy Torivio sat undistracted in the gallery while we watched her paint. With questions and movement all around her she deliberately went about stroking her yucca brush in slip, stroking again, then applying slip to her pot. Accurate, repetitive, simple smears set on a curve combined slowly before our very eyes to become the four direction design. For all who were present it will be a moment we will never forget. Our heartfelt thanks to Dorothy, her daughter Audrey, and Sandra Victorino for sharing their stories, their company, and their laughter with all of us at Tribal Expressions.
A generational influence, Dorothy Torivio was a resident of Acoma, New Mexico. Dorothy was known for harmonious integration of shape and design in her pottery. She was born in the Pueblo in 1946 and passed away in 2011. Trained by her mother in law, Lolita Concho, Dorothy learned where to find clay, how to mix and process slips, and how to build pots with thin solid walls. She inherited Lolita's polishing stone, base bowls, and slips of pink and red. To create her thin walled and steeply sloped pots she learned to use the natural hardening of clay to prevent cave in's. Her shapes are generally even and well balanced. They are instinctively developed to accentuate the drama of her painted designs.
Dorothy applied slip freehand using a brush made of yucca. She used tender shoots found near the base of the yucca plant. Shoots are cut, chewed to eliminate loose fibers, and soaked in water. Dorothy said that yucca is more flexible and holds more slip than regular paint brushes and the slip doesn't dry as fast when applied with yucca brushes. Because they are provided at no cost by mother nature, she was able to make and use a large variety of brushes for fine lines, bold patterns, and fill.
Dorothy polished her pots with white Acoma slip, then with a pencil marked points around the shoulder, just like the hour marks on a watch or degree marks on a compass. Dorothy began her design application around the neck of the pot and worked in concentric circles expanding the design over the shoulders and contracting it toward the base. Her designs seem to stretch like elastic over the pot. The designs fire black on white with an occasional use of red dots to signify snow or black dots as rain. One spectacular example of her work remains in the gallery for the lucky collector.
Showing the single result