Al Joe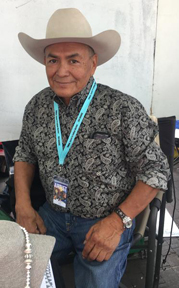 Al Joe has a contemporary edge to traditional Navajo designs. He crafts jewelry in sterling silver and uses stamping, overlay, and shadowbox techniques. Al learned jewelry making skills from Colbert Joe, his uncle. He was later educated at Northern Arizona University in Flagstaff, Arizona. His current residence is in Winslow, Arizona and is currently producing jewelry everyday.
Al has been known to use a variety of Turquoises, including stones from Carico Lake Mine, as well as Mediterranean Coral. His designs have an elegance that carries them into the modern day.
Al Joe was awarded IACA's (Indian Arts and Crafts Association) Artist of the Year in 2001 and again in 2009!
Showing all 5 results, including child brands